The US Senate is deliberately non-democratic. This is known. How it got this way goes beyond the Connecticut Compromise, however, and the advantage to the GOP doesn't necessarily come from where you think it might.
The Senate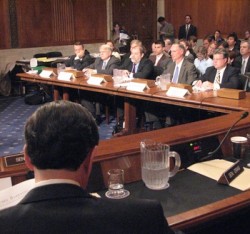 It is well-known that the United States Senate disproportionately favors less populated states. Wyoming, our nation's least populated state, has two senators for its population of roughly 580,000 people. California, meanwhile, also has two senators for its population of over thirty-eight million people. Meaning that the average citizen of Wyoming has Senate representation greater than sixty-six times that of the average Californian.
Disparities in upper houses aren't unique to the United States. In Germany, each of the states have between four and six members of their upper house (the Bundesrat). Though it's is apportioned by population, but that doesn't come close to accounting for a population disparity where the least populace state has 600,000 and the most populous over seventeen million. Like the United States, Australia's upper house gives uniform senate representation despite significant population disparities. Canada's upper house representation is hard-coded into their constitution in such a way that New Brunswick (population 750,000) has ten senators while British Columbia (population 4,400,000) has only six.
The circumstances in all of these upper houses are different, of course. They also have different powers and responsibilities, with some having more than others and few having as many as the United States. In the Bundesrat, the members are appointed by the state executives, while in Canada they are appointed by the Prime Minister.
What makes the United States unique is the combination of how selection occurs, the scope of the population disparity, and the amount of power enjoyed by the senate. Not just by virtue of the fact that (unlike Australia, Canada, Germany, and others) we don't have a chief executive derived from the other house, but because of custom, legislative rules, and powers specifically given to it in the Constitution. All of which make the sheer size of the population disparity more contentious.